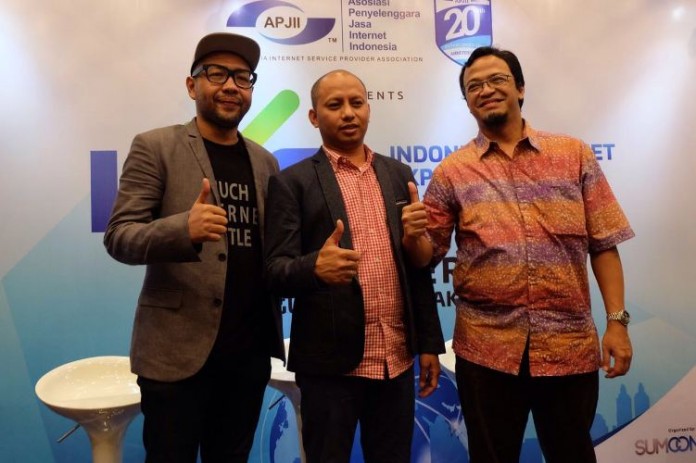 Jakarta, KomIT – Asosiasi Penyelenggara Jasa Internet Indonesia (APJII) dalam rangka memperingati HUT ke- 20 menggelar pameran tahunan khusus untuk industri internet yakni Indonesia Internet Expo & Summit (IIXS) 2016. Pameran IIX akan digelar pada 22-24 November 2016 di Kartika Expo Center, Balai Kartini, Jakarta mulai dari pukul 10.00 – 21.00 WIB.
"Pameran IIXS ini akan menghadirkan berbagai pelaku di bidang telekomunikasi dan IT dengan menyajikan pameran, konferensi/summit, launching dan demonstrasi produk. Dengan tujuan untuk membuka kesempatan bagi para pengunjung dan pelaku industri untuk bertemu muka dan menjalin network baru, acara ini juga ditujukan sebagai wadah untuk para pelaku bisnis telekomunikasi dan digital untuk meningkatkan performa serta untuk memperluas ranah business to business (b to b) dan juga business to consumer (b to c)," ujar Ketua Umum APJII, Jamalul Izza, di Jakarta, Rabu (24/8).
Sementara itu sekertaris umum APJII, Henri Kasyfi Soemartono mengatatakan, pameran juga akan diikuti oleh anggota dan non-anggota APJII, yang keseluruhannya terdiri dari Internet Service Provider (ISP), perusahaan penyedia teknologi (vendor), application development, cloud service, connectivity modules, data center, data analytics, mobile solutions, M2M systems & platforms, system integration network management, platform solutions, banking (mobile banking and payment gateway), perusahaan telekomunikasi dan yang lainnya. Berbagai Forum dan Gathering yang berkaitan dengan Industri Internet juga akan dilaksanakan bersamaan dengan event IIXS pada bulan November 2016.
Pengunjung juga dapat mengikuti dan menyaksikan sejumlah workshop & sharing session dari komunitas filmmaker, game developers, makerspace, IoT/robotics, Liga Digital, Hackaton (apps & software developers) dan para startup digital serta panggung hiburan dari para artis yang besar melalui Internet. Selain kegiatan di atas, IIXS 2016 yang diorganisir oleh Sumconvex ini juga merupakan IT/Telco Career Day, yang merupakan rekrutmen tenaga kerja khusus di bidang IT dan Telekomunikasi. (red)